Looking to take your leadership to the next level? The Art of Leadership Women returns this November with its highly anticipated 10th national tour!
This unique one-day conference features an empowering lineup of speakers and topics curated to share strategies and insights on the most critical issues facing leaders today. Don't miss this invaluable opportunity to develop your leaders, engage your talent, and build high-performing teams. Join us for an inspiring day of learning, networking, and championing change for women.

Our club members have a unique opportunity to receive a discounted price to this exciting event, with guest speakers such as Arlene Dickinson, from CBC's Dragons Den.

You can save $50 off each pass, or save $100 off each pass for groups of 5 or more.

If interested please fill out this form to receive the Discount Code.

DATE: Monday November 27, 2023

TIME: 8:30AM – 4:30PM

LOCATION: Shaw Centre
Canada Hall 301
55 Colonel By Drive
Ottawa, ON
The 2023 Futsal League is being jointly run by the Ottawa Futsal Club and the EODSA. Facilities and operations will be the carried out by the Ottawa Futsal Club using EODSA software.
Divisions:
U8 – U12, Tier 1 and Tier 2 Both Boys' and Girls' teams are welcome to enter. If there aren't enough Girls' teams to run separate divisions, the girls will be found the most appropriate division within the boys' league.
Who Can Enter:
Any Club team where the Club is approved to run youth competitive programs.
Locations:
NEW: Locations will be within the city of Ottawa, focused mainly in Ottawa South.
Days:
All games will be on Saturday, throughout the day and evening. Latest 8:00pm end.
Weeks:
Number of weeks: 6
November 4, 11, 18, 25
December 2,9
Fee:
$250.00 per team, pending EODSA Board approval (Clubs will be invoiced upon registration. Payments are due immediately)
Important dates:
Registration Deadline: October 15, 2023 end of day
Withdrawal without penalty: by October 15, 2022
Withdrawal with forfeit of full fee: by October 22, 2022
We love it when it's obvious that coaches care about their players.
When U11 teams from Seaway Valley Soccer Club and West Ottawa Soccer Club realized that they were going to have an unfair match up for a game, the coaches got together and came up with a plan that saw both teams have a great experience.
In Grassroots soccer (U8 to U12) one of the reasons we don't keep score is so that coaches feel empowered to adjust the game however it needs so that the players have a good, safe experience. We know that parents and players keep score anyway, but the game is about so much more than that.
" it made all the difference in the world surrounded by positive and encouraging people".
Well done, Rob, Binh, Mindy and Kwame
Thank you for being ambassadors of player focused soccer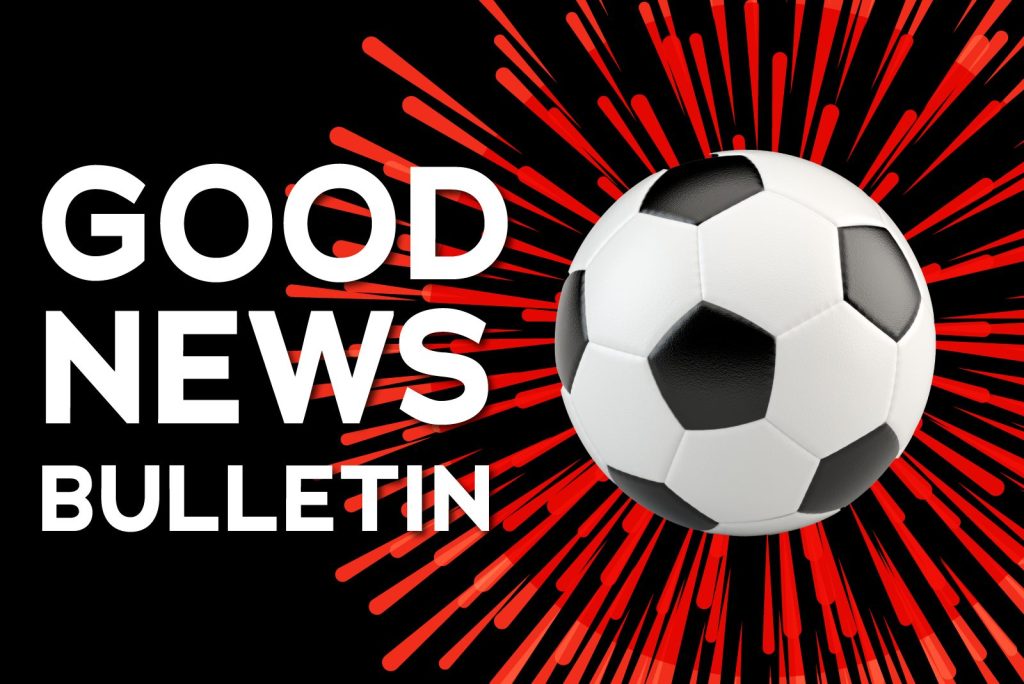 Ontario Soccer is proud to pave the way for a cultural change in treatment of Match Officials through the No Ref, No Game program.
No Ref, No Game strives to stop the cycle of abuse and bullying towards match officials through culture change.
Click here to find out more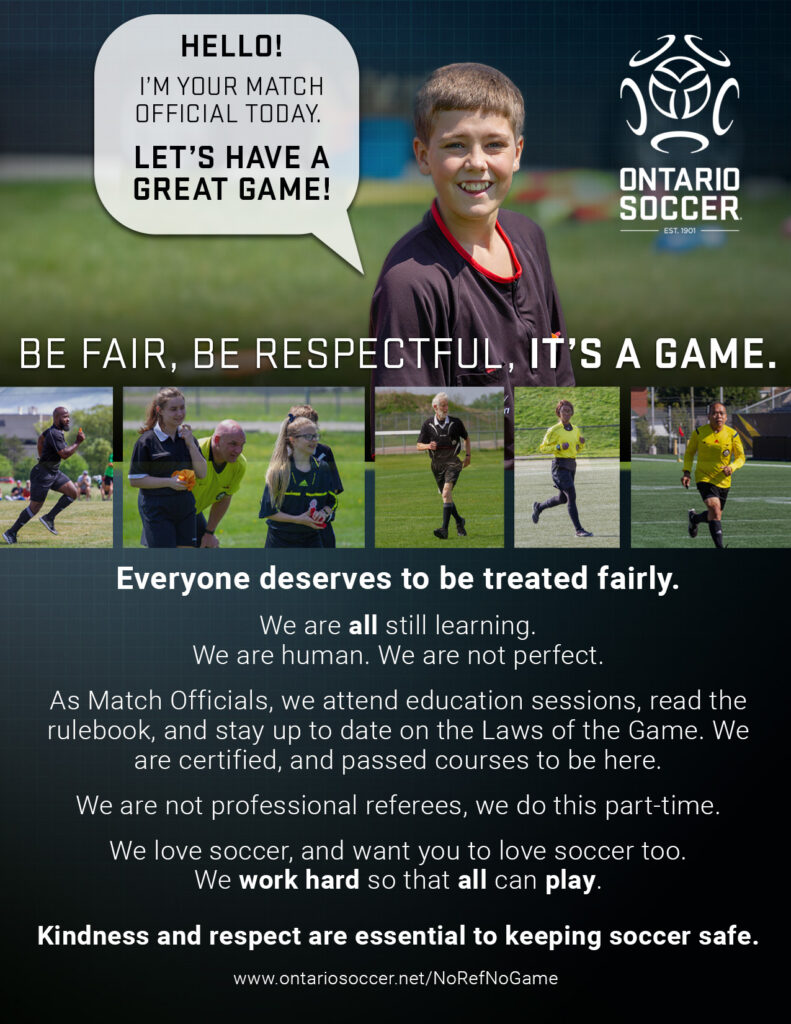 Match Official (Referee) retention and recruitment numbers has seen a drastic depletion of officials at all levels.
Although historically low in all sports, if they continue at current levels, they will threaten the viability of our game. When surveyed, the number one reason for Match Officials not returning to the game is maltreatment. Research also confirms that Match Officials are at increased risk for mental health challenges.
At Ontario Soccer, we strive to create programming and policy that will protect our Match Officials from the physical and mental health impacts of bullying and harassment. As such we, are announcing a multi-year program surrounding Match Official Bullying and Harassment that will holistically address policy and discipline changes and public/participant education. This will be supported by a marketing and awareness campaign. We will gather input from the officiating community through focus groups, surveys and meetings. Additional research and data from University and Research partners will drive change throughout all levels of the game in Ontario.
As a first step in this program, we are releasing our Charter of Match Officials; one signed by the Ontario Soccer Board of Directors, and the other signed by our District Association Leaders. These Charters are a small first step in addressing the change in perspective, and adjustment to the current culture. By signing these charters, our membership leaders are publicly committing to supporting our Match Officials with "a zero-tolerance approach and to delivering the anti-bullying and harassment programs we are developing.
Click here to view the Charter and for more program information.
In addition to this Charter, more resources will be released in the coming weeks and months.
If you have any questions, please contact Nicky Pearson, Sr. Manager of Match Officials Development npearson@ontariosoccer.net.
Please read - Important message from Vicki Lowe, Executive Director concerning team official behaviour